Toke Makinwa Child, Biography, Married, Husband
Toke Makinwa is a leading Nigerian media personality. She was born in Abuja, Nigeria. And later on, her parents relocated to Lagos. Toke is the second of 4 children. Sadly, the vibrant entertainer lost both parents at an early age and was subsequently raised by Mr & Mrs Akinyelure, her foster parents. Here's everything you need to know about the TV personality.
Biography, Age
Toke Makinwa's birth date is on 3rd November 1984. She attended Federal Government College, Oyo State. For her tertiary education, she attended the prestigious University of Lagos, where she bagged a degree in English Language and Literature.
As a child, the potential star always had the flair for entertainment cum communication. She had always wanted to be in the spotlight.
As she awaited her admission into the university, Toke had her first radio experience. She went on to finish her education but was certain she had a future in the media.
Toke is famous for being a co-host of The Morning Drive show on Rhythm 93.7FM.
In 2010 Toke launched her late-night show, Rhythms of the Night on Rhythm 93.7FM. The star, who is never short of words to say, is loved by millions of listeners for her engaging on-air personality. Together with 2 other radio personalities and colleagues, Tosyn Bucknor and Oreka Godis, the trio co-hosted Flytime Entertainment's online show 3 Live Chicks.
She came into limelight in the entertainment industry in 2010 with her engaging and hilarious YouTube videos. Through the platform, Nigerians have seen that she is a vibrant and captivating character. She is the typical Nigerian entertainer.
Her Vlogpopularly known as Toke Moments on YouTube finally gave a face to the already popular Nigerian media star. Her vlog content was often targeted towards the Do's and Don't's of relationships. The drama queen also stamped a huge success with her vlog comic series.
For being an entertainer who has a sound mastery of the Nigerian audience, Toke has also recorded a good number of successes anchoring and presenting shows on several media platforms. In 2010, the fashion icon anchored the Most Beautiful Girl in Nigeria beauty pageant.
Toke hosted the 2014 Hip Hop Magazine Trending show. In the course of that, she interviewed top Nigerian international personalities such as Chiwetel Ejiofor and Femi Kuti. In 2015, she became a co-host of the syndicated Moments Talk show (Nigeria) on Ebony life Television. She hosts the show alongside other personalities like Michelle Dede and Bolanle Olukanni.
Toke Makinwa is an all-time fan of the Oprah Winfrey Talk Show. She shared her childhood fantasy of having her marriage proposal moments on the African-American billionaires' show. She still hopes to have her own Talk Show and has also indicated her future interest to launch an acting career in Nollywood.
Toke Makinwa has made several achievements in the Nigerian entertainment industry. She won the Nigeria Broadcasters Awards for the outstanding female presenter of the year in 2013. That same year, she became a brand ambassador for the United Africa Company of Nigeria (UAC). Just to mention a few, Toke signed a multi-million naira ambassadorship deal with Nestle in 2014 as the new face of Maggi.
In 2013, the diva lost the Nickelodeon Kids' Choice awards for favourite Nigerian on-air personality to Freeze of Cool Fm and also Entertainment of the year to Nigerian Denrele a year later.
Married, Husband
Toke Makinwa got married to her longtime partner and health instructor, Maje Ayida. The couple had been together for over 7 years. They had a private wedding on January 15, 2014.
Barely 2 years after her wedding, their marriage hit the rocks. Maje allegedly had impregnated a supposedly estranged girlfriend, Anita Solomon.
The tragedy was the rave of the moment over social networks in 2015. It was ironical that the vlogger whose success emerged from giving relationship tips was having a rough time in hers. Toke had earlier mentioned that her spouse did not fancy her vlogs.
Nigerian entertainment reports confirm that the audacious diva separated from her spouse for months and later filed for a divorce in June 2016.
Before and After Bleaching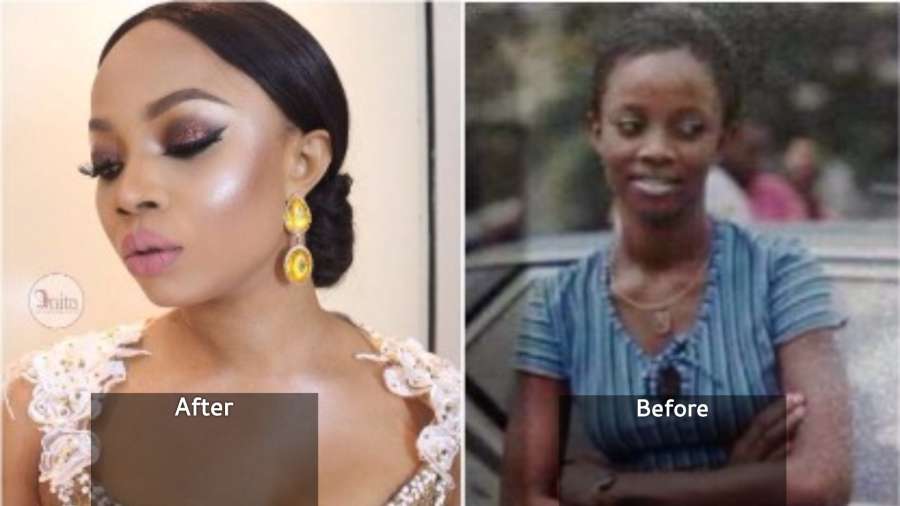 Toke Makinwa looks nothing like she used to. She was a dark-skinned woman but now she is way lighter and blonder after bleaching her skin. Skin bleaching is something many women won't admit to but the TV and radio personality in her book "On Becoming" revealed that she bleached her skin just to impress her ex-husband, Maje Ayida while they were still dating. This was after she found out that Maji had a thing for fair-skinned ladies. Despite the fact that most women who bleached their skins to become lighter usually have obviously dark elbows, knuckles and joints, Makinwa remains one of Nigeria's hottest TV female personality She is also among the celebrities who give fans money on Social Media.