Latest African Short Box Braid Styles For Every Lady To Try
What are you doing here? Looking for short box braid style ideas? We've compiled the best styles trending on Pinterest and Instagram for you.
There are so many times you want to make a braid and you want the best of it but without clear picture to show your stylist, you might end up getting the style you don't want or something outdated and that's why we have carefully arranged some of the best box braids that are not only going to be trending in 2019 but are soon going to be part of every ladies 2020 hairstyles plan.
This post includes only beautiful and stylish short box braids that are perfect for all kinds of occasion, short box braids takes half of the time you would spend on a long braid so it's time to rev up your confidence and have your stylist making a short goddess braid suitable for you.
Short Box Braids For Every Lady
Another interesting thing about box braids is the fact that you can lighten them up with different colors of attachment that suits you perfectly.
1. Scanty Box Braid With Bead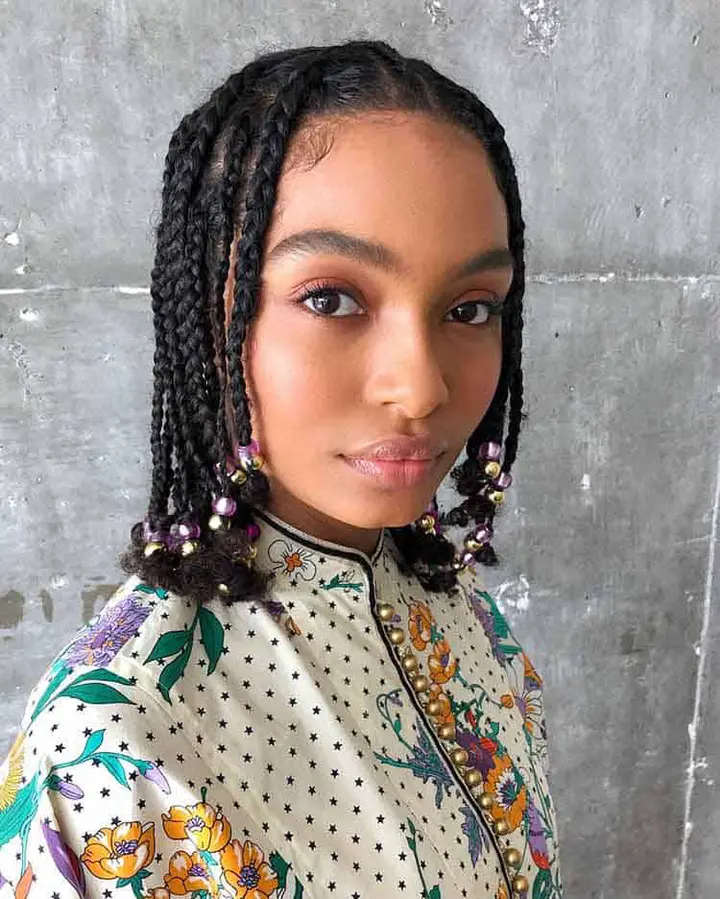 Yara Shahidi box braids are simple but splendid, they can be replicated to suit any outfit and quite very easy and saves you lot's of time sitting as it's such a fast braid. Adorn it with hair accessories like beads and barrettes. This box braid can also be made with losing tips with the beads are substituted for rubbers.
2. Medium Scanty Box Braid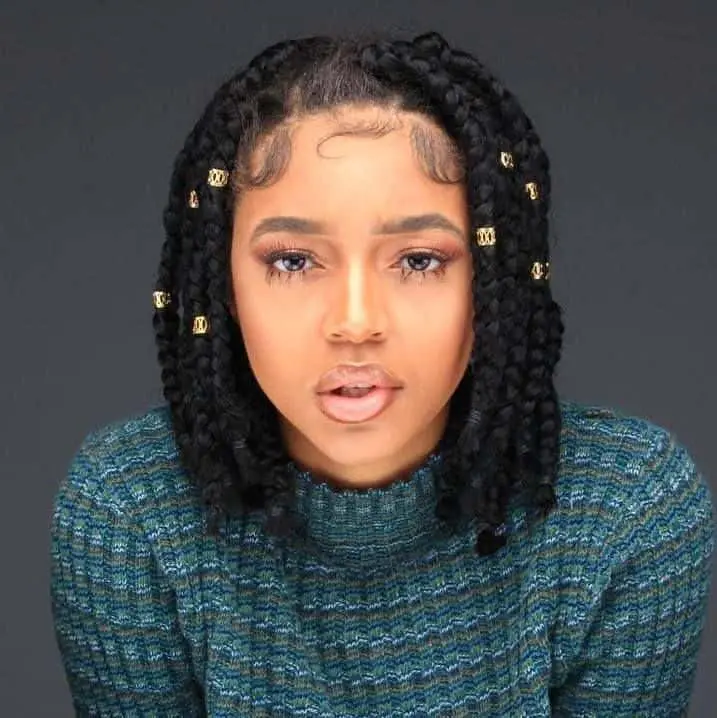 Scanty box braids are superb, doesn't take much time to make and you are going to love this braid if you do not have full hair, there are different ways you can style the frontal part and most ladies go with big cornrows to add a more unique appeal to it.
3. Sleek Center Parting Box Braid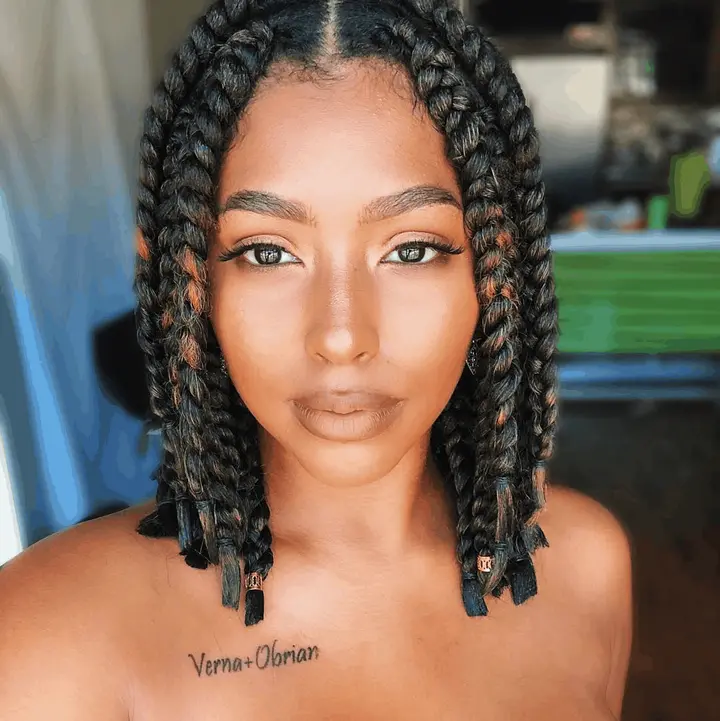 This is one of the best box braids you can make with natural hair, it's a protective hairstyle and would also keep your front hair from breakage, it is light and with the right stylist, would take a while before you did have to change it.
4. Center Parting Jumbo Braid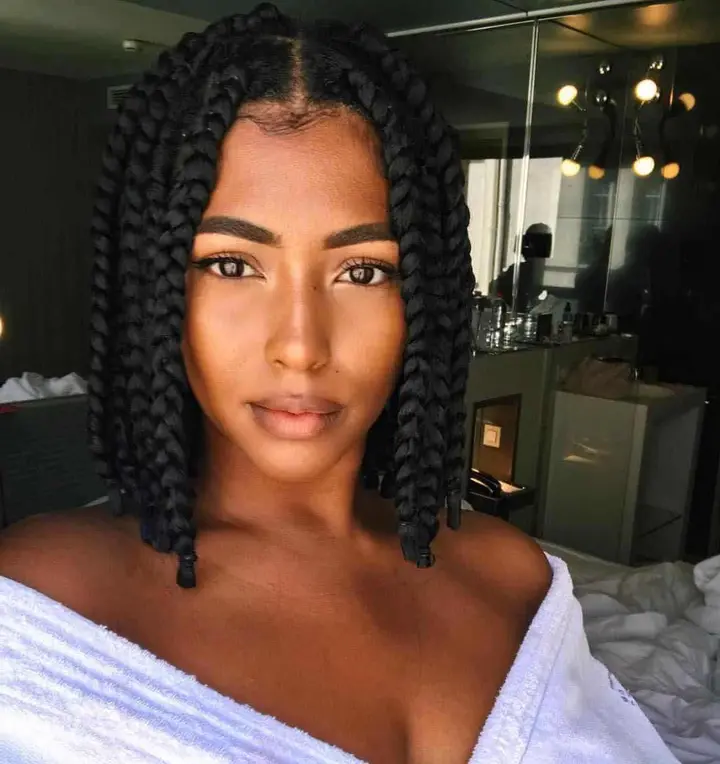 Jumbo braids are beautiful and are easy to style, you can always add your own unique style to it, it's simple and elegant.
5. Tight Braids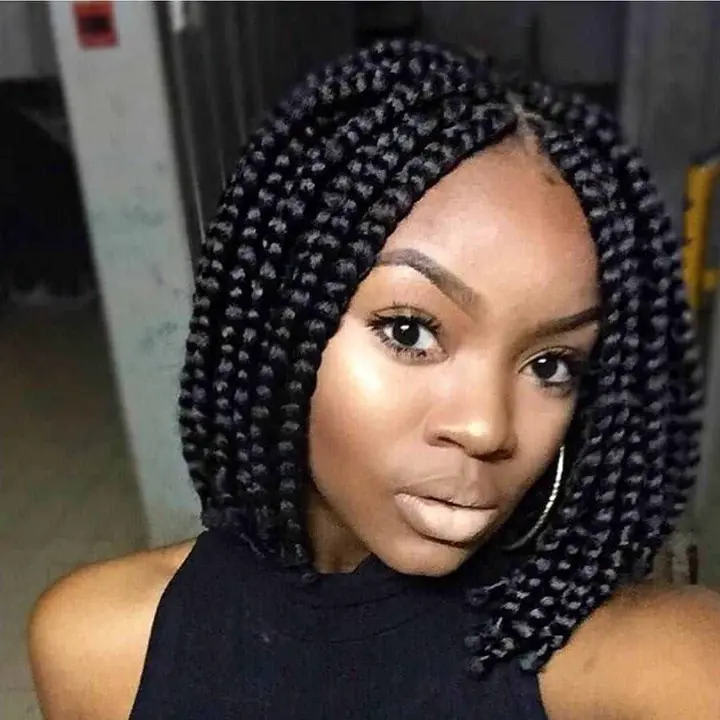 Tight braids are also protective hairstyles but ensure you have healthy hair before making this hairstyle or best to make it with a relaxed hair type as this would prevent breakage.
6. Crochet Braids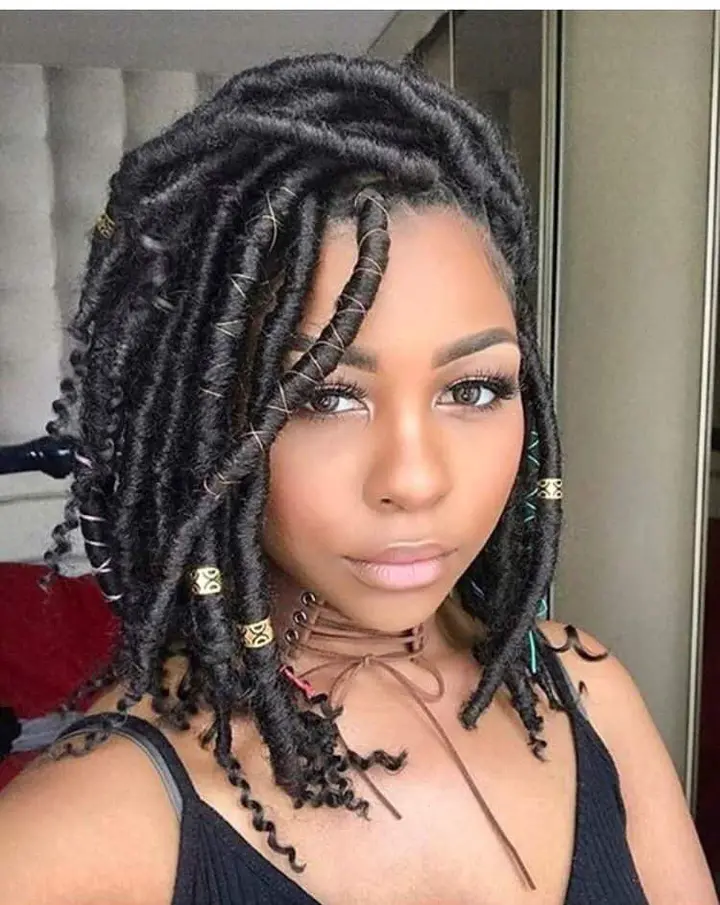 Crochet braids are the easiest to make as this can be installed on your hair with no hassle and it protects the hair shaft from split ends.
7. Big Box Braids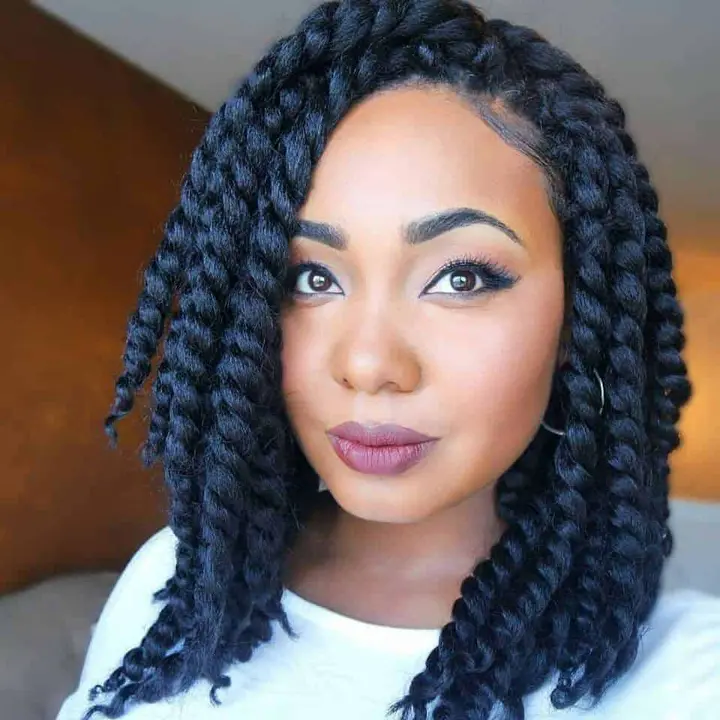 This type of braid can be installed as a crochet braid or made with your hair depending on how you like it. This can be really amazing and classy, you can also style it whichever you want.
8. Medium Box Braids In Feathers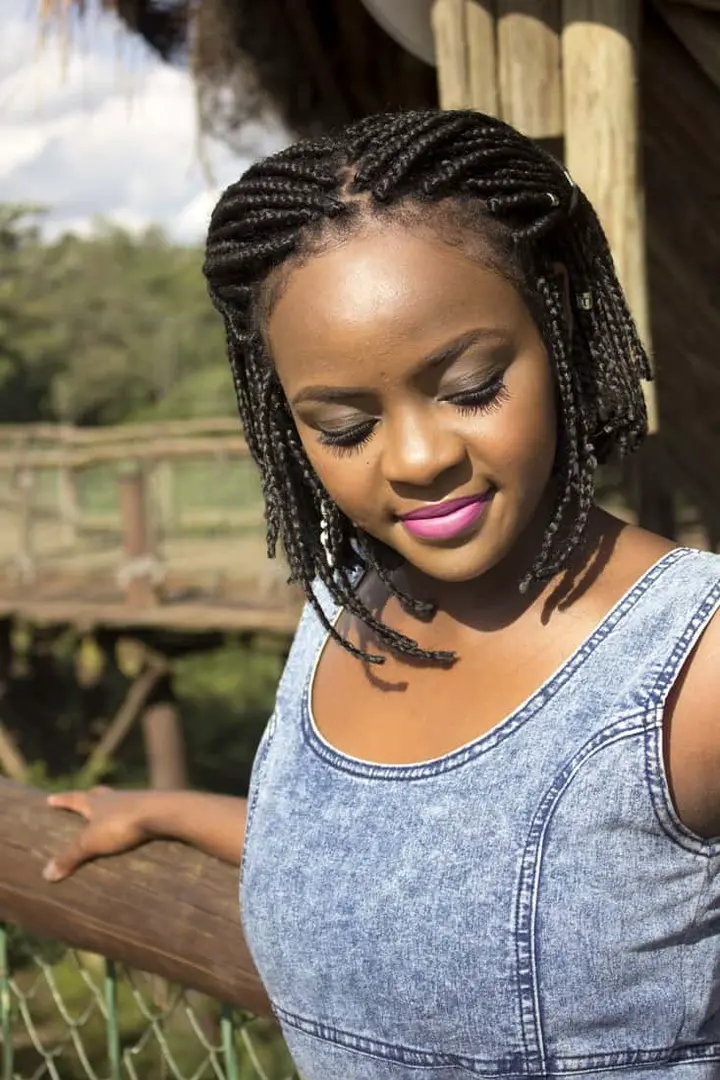 Feather braids are simple and stunning and do last longer than any other types of braids.
9. Feathers Bob braid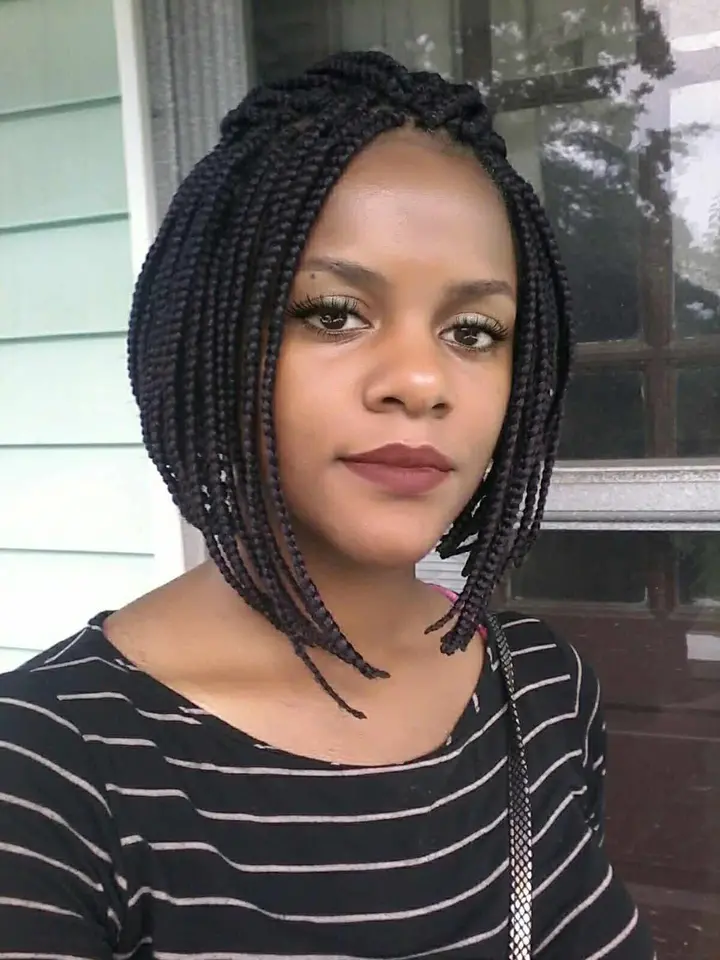 Bob braids are another exotic braids that do last long, they might take time though if they are in the form of feathers but the medium or large form takes lesser time to make.
10. Shoulder Length Feather Braids
Box braids do not have to be extremely short before you can find it worthy and fitting of your face features, shoulder-length braids are splendid and suitable for all kinds of occasions.
11. Penciled Mouth Box Braid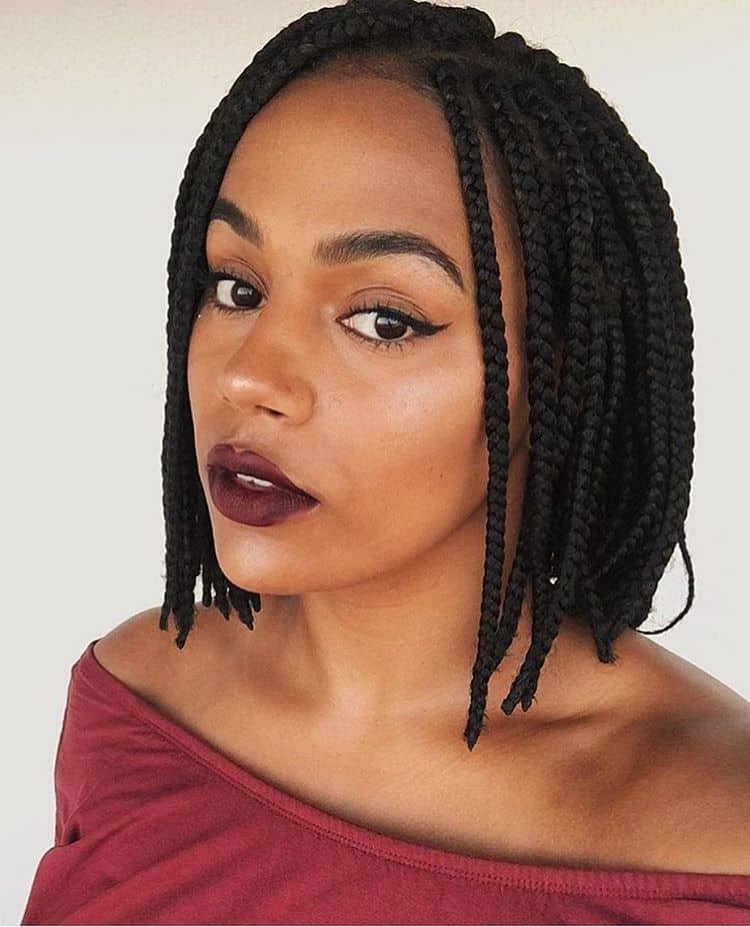 Penciled mouth box braids are as old as box braids itself, they make your braids sleek and tight preventing it from losing.
12. Scanty And Tight Edge Box Braid
Style your braids with as much hair barrettes as you want.
13. Goddess Braids With Loose Tip
Just like jumbo box braids, your goddess braids can also be styled the exact way.
14. White Box Braid
Add some fun to your box braid with white or grey attachment, this can be extremely short or medium and you can go or a jumbo box braid or a bob braid.
15. Jumbo Short Box Braid
You must be familiar with jumbo box braids as they pretty popular form of braids and while making it long might be common, short jumbo box braids are more comfortable and faster to make, it's length is usually very short compared to other braids.
16. Triangle Box Braid
Triangle braids are similar to jumbo box braids but have a twisted base and a tad longer than jumbo braids, you can also plait triangle braids in twisting form as that takes lesser time to make.
17. Short Bob Braid
Bob braids are a lot lighter compared to jumbo braids and it's usually burnt at the tip to keep it from losing and also it's more beautiful with Brazillian wool than any braid would be.
18. Tiny Box Braid With Full Frontal
If you are a fan of tiny braids but can't bear sitting for hours then you can go for this short braid to cut the long hours spent making long braids short, the tip is always very smooth and penciled to make it look just like a tiny braid.
19.Braided Bob With Side Part
Stylist and those who know their braid will probably tell you, you are missing out if you haven't tried box braid with side parting, it is referred to as the perfect chic style, the parting could also be at the center to make it look even more classic.
20. Twisted Box Braid
Twister box braid takes very little time to make and if you have nice hair follicles, it tends to last a lot longer, you should get a good stylist on this though because if not done properly and tightly, it looses at the tip.
21. Knotted Box Braid Selah Marley
This is called knotted because the tip of the braid is knotted, not really burnt and it also lasts a long while if you are good at carrying braids. There are many length you can make this braid depending on your preference.
22. Salt And Pepper Bob
This comes with a color trend hence the name salt and pepper as there is mixing of colors involve and it's a side parting too, any color can be mixed to make this particular braid interesting.
23. Senegalese Twist
If you are on the hunt for a suitable formal braid then this should be your go-to braid, very adorable and totally transforms the face, giving it a more beautiful and subtle look.
24. Chunky Bob
This is new in trend but has been widely accepted, you can't help but love the simplicity of it and if styled properly, you can flaunt it more and enjoy its durability.
25. Bob With Bangs
Time to curve those braids a little, add some classic bangs to it, nothing too dramatic but obvious enough to be flaunted.
26. Feathers Box Braid
This is one braid a lots of ladies would definitely boast of making, might look like it's a time taking braid but it's not due to how short it is. The shorter a feathers box braid is, the lesser time it consumes.
27. Feed-In-Bob Braid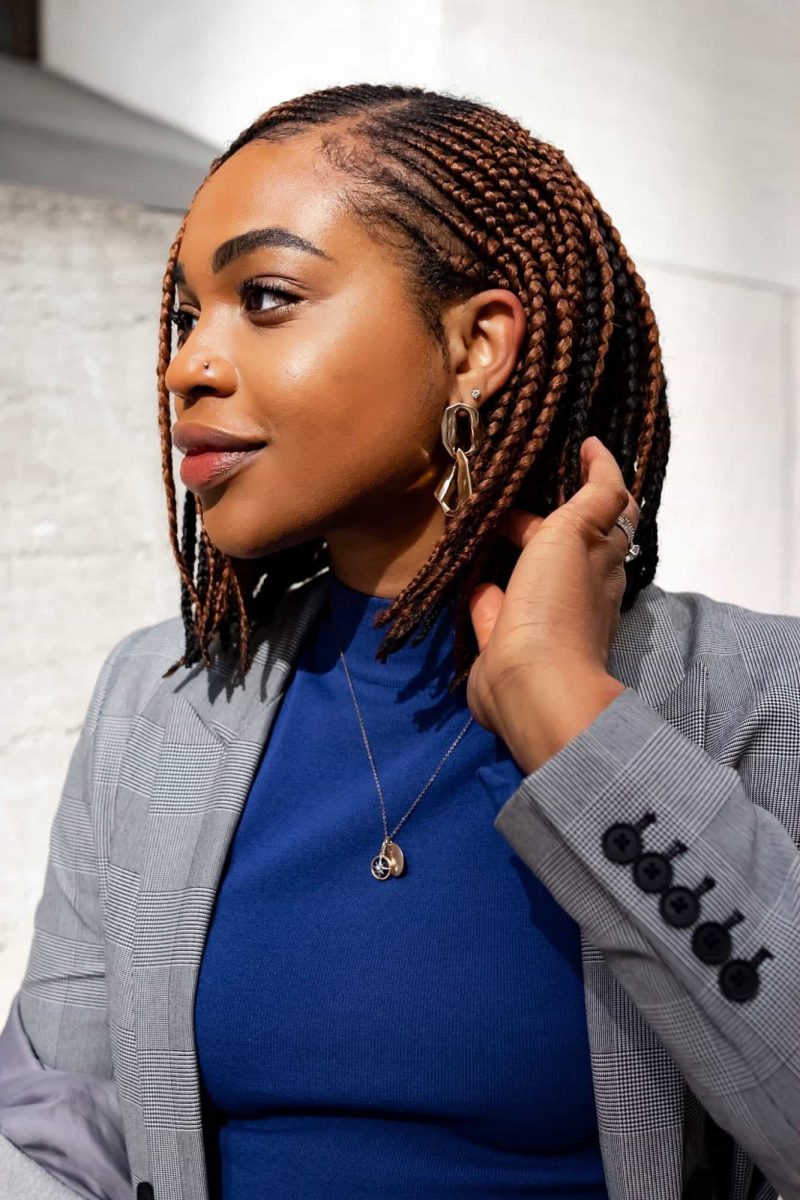 Go the extra miles with your braid and add some feed to it, the look is just right for practically all occasion.
28. A-line Cut Box Braid
A-line cut box braid is another simple box braid we can call classy, you can make this braid with feeds in it to add more glamour to it.
29. Shoulder Length Box Braid With Wide Bangs
Here is another well talked about box braid, the bang is usually wide at the mouth to avoid it becoming too cold off and the neck and thereby inconvenient you however you can reduce the length to make it comfortable.
30. Shoulder Length asymmetric Box Braid
This won't be a complete list without the well known asymmetric box braid to complete it, it's a pretty popular braid and often confused with other box braids but this has more volume and one side should be fuller than the other side.