"We Ordered the Whole World": Hilda Baci Spends N1.1M as She Takes Her Besties Out for Lunch in Viral Video
After church on Sunday, Nigerian chef and record breaker Hilda Baci had a lunch outing with her besties in style
One of her pals, who was part of the outing, revealed that they ordered the whole world and were shocked when the bill came
The bill, which totalled over N1 million, was cleared by Hilda and surfaced on social media as many reacted
A video from Hilda Baci's lunch outing with her friends and besties has surfaced online and got netizens talking.
Her friend, who did a voice-over in the clip, explained that they went for lunch after her Thanksgiving in church on Sunday, May 21.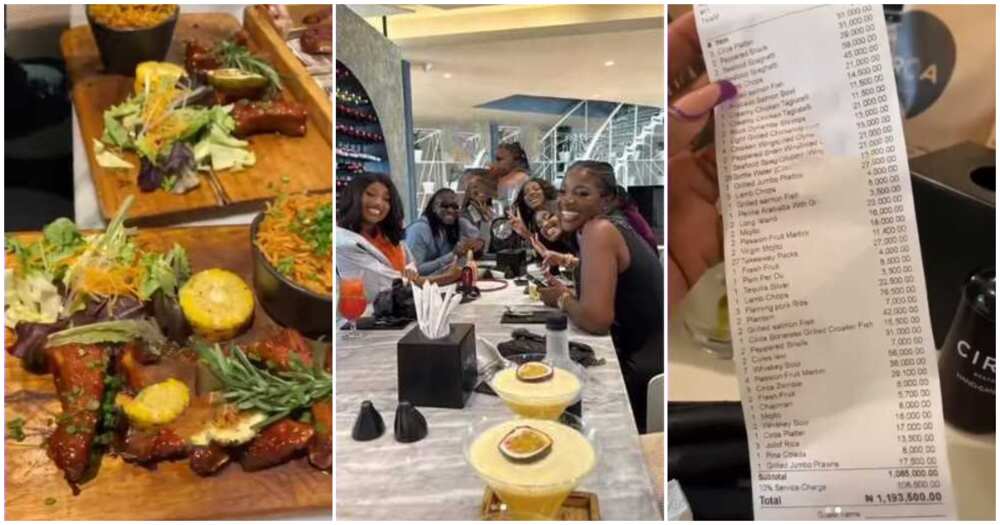 They were over six folks comprising of a male and females. The lady in the background jocularly remarked that they ordered the whole world.
The receipt, made public by her friend, showed some of the things they ordered, which included spaghetti, jollof rice and tequila.
She said Hilda cleared the bill singlehandedly and paid a whopping N1.1 million. Mixed reactions trailed the video.
Watch the video below:
Social media reactions to Hilda's launch date with friends
@nwadakkindness said:
"But you ordered the hole world and your bill was just 1.1million. Normally to pay for the hole world you ordered no suppose dey cheaper than 1billion dollars na."
@leaddyskincare said:
"This information isn't necessary. Why are you exposing her financial status to everybody?
"She is the still the real MVP."
@samvail_ said:
"Una don start… This was suppose to be bbn strategy after the house. Next thing now invisible fans go buy Hilda cars with millions of cash. Make una calm down! Lol."
@goddess_of_cruise said:
"Na now this her so called bestie go bestie her very well . This life eh just make name/money chaiii."
@arc_oscarson said:
"This is no news now, as this is what we guys do on a steady. Abi its because she is a lady, nai make the thing turn news."
@sophie_austine said:
"Lool. It's a normal thing for them to have brunch every Sunday and one person pays the bill Lool."
@mcukodo said:
"Even me and my guys… yesterday… we eat goat meat of 2.7 million… only goat meat, dey nor calculate onions."