A lot of reactions have trailed the prayer walk by members of the Redeemed Christian Church of God (RCCG) led by their head pastor, Enoch Adeboye which took place on Sunday, February 2.
Among prominent Nigerians who reacted to the demonstration against rampant killings and rising insecurity in the nation was former presidential candidate, Omoyele Sowore.
On his Twitter page, Sowore saluted the courage of the church for their move against the ugly trend in Nigeria, adding that the kind of resistance is the key to liberation.
Moreover, the activist called on Nigerians from all walks of life to join the RCCG in their struggle against every sort of insurgency anywhere in the country.
On his part, the former senator representing Kaduna Central, Shehu Sani, said that the cleric has finally woken up from sitting on the fence to outspokenness on disturbing issues affecting the lives of average Nigerians.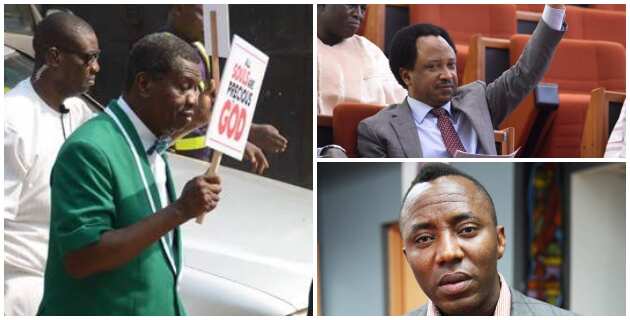 Both outspoken Nigerians commended Pastor Enoch Adeboye for his brave demonstration against insecurity in Nigeria
Source: UGC
The former lawmaker said that it is applaudable that the cleric has traded toeing the line of moderation and neutrality for active participation in the fight against national insecurity.
Recall that Wothappen.com reported that Adeboye joined the members of his church in a prayer walk against insecurity in Nigeria.
He was donned in a green suit, which is the colour of the Nigerian flag. He had a placard with the inscription, "All souls are precious to God".
The cleric had directed his church members to participate in the prayer walk declared by the Christian Association of Nigeria (CAN) to address the spate of killings across Nigeria.
No fewer than 25,000 parishes of the church are expected to carry out this prayer walk nationwide. The church was matching on and the gate of hell shall not prevail against it.
Reacting to this on social media, one Dr Dípò Awójídé said more churches should have partnered with the RCCG. "RCCG should have partnered with Living Faith, Catholic Church, Anglican Church and other megachurches in Nigeria.
They should all have joined this nationwide protests against the senseless killings/massacre in Nigeria which the Federal Government has been unable to tackle," he wrote.