She waited for me for 9yrs when i was in jail, but i can't marry her because she is too nice-Man cries
A man as shared his ordeal on Facebook .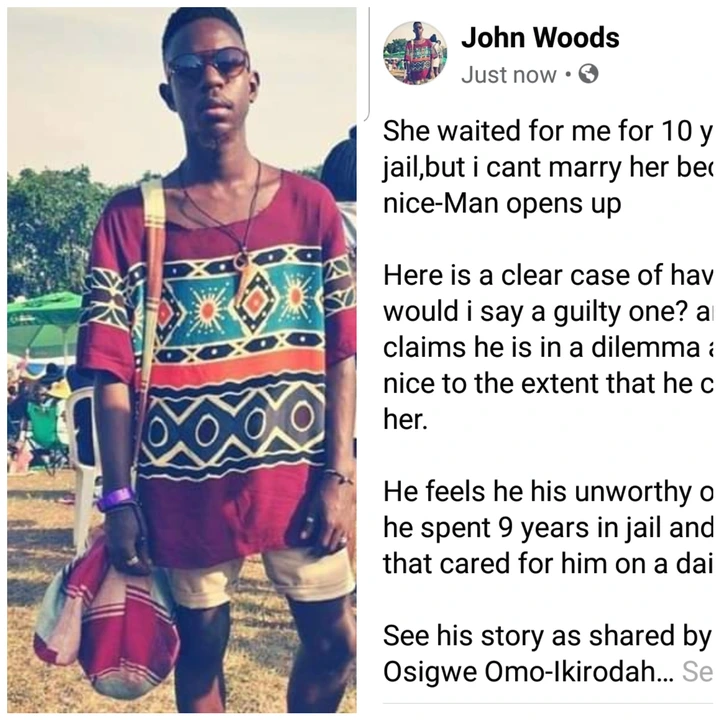 Here is a clear case of having a just conscience or would I say a guilty one? anyway, this young man claims he is in a dilemma as his girlfriend is too nice to the extent that he cant consider marrying her.
He feels he his unworthy of her. According to him, he spent 9 years in jail and she was the only one that cared for him on a daily basis.
See his story as shared by relationship expert Osigwe Omo-Ikirodah
Hello, Osigwe please help publish.
Hello, Osigwe my name is Jude I am from Delta State. I got into a relationship with this Igbo lady from Anambra. It has been 13 years of a blissful relationship.
The problem I have now is that she has proposed to marry me and I am confused in accepting the offer. She is too nice to a fault. When we started dating about 3 years into the relationship I ran into a small drug deal that went awry.
Actually, it was my fault as I wanted to make it big so I can marry Nkechi.My beautiful girl from Onitsha.
My first attempt at smuggling got me trapped and I was jailed for 9 years. My family and friends forgot about me.
I was scorned, laughed at and abandoned by everyone.
Only this beautiful Igbo lady stood by me. She was always visiting me in prisons and bringing me food.
Now she says she wants to marry me, how can I marry her when I know I am not worthy of her? I have a criminal record she does not deserve to attach to her name.
I know I am repentant but still yet what if she finds herself in a public office then she would be rubbished by everyone that her husband is an ex-convict.
Please what do I do?
Worried man
Please how can we help our worried brother?
Your views are welcome below.