See What Pregnancy Has Done To Big Brother Naija's BamBam
Being pregnant means different things to different people. While for some, it is a thing of joy and fulfillment, others wallow in the changes that it brings about.
For the newly married 2018 Big Brother Naija contestant BamBam however, it is a different tale.
The reality star gave her fans a hint of what pregnancy has done to her on her Twitter handle.
According to BamBam, pregnancy completely changes one, and for her, some days she doesn't believe she is the one standing in front of the mirror.
She wrote; "Pregnancy completely changes you… some days I don't believe I'm the one standing in front of the mirror. My skin my complexion… hormones have taken over. It's amazing."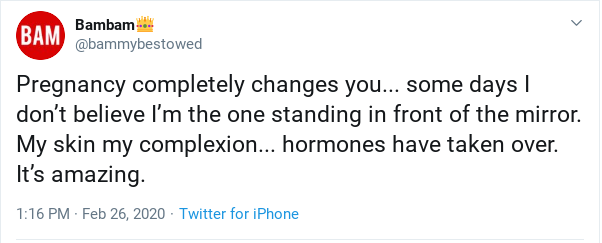 Late last year, BamBam tied the knots with fellow contestant, Teddy A in a stunning ceremony in faraway Dubai.
The wedding was attended by a large number of celebrities.
About a week later, she announced that she was pregnant.