See What Davido's Elder Sister Did To A Lady Who Said She Wants To Marry Her Rich Father
Yesterday, Davido's sister, Sharon popularly known as Rona went on a trip to Atlanta with her father, Adeleke Adedeji. That was the first trip they would take on their newly acquired private jet. While they were on the trip, Sharon was uploading a lot of videos and pictures of herself and her father on her official Instagram page:@lifeofrona. She also shared some lovely short videos of her father having funny banters with her as they journeyed to America.
In response to one of the videos that Sharon shared with her father; one of her female followers told her that she (the follower) likes her father-Mr Adeleke. She went further to ask Sharon if she could marry her father because he looked rich. The billionaire's daughter didn't find her followers question funny so she told the lady that there was no way she could marry her father; he response to the question was an outright "No". The female follower went further to beg Sharon to allow her marry her rich father but an angry Sharon stated that she was going to block the follower immediately. This is not the first time that Davido's sister would publicly share her conversations with people in her dm because some of her followers are fond of commenting on her Instagram stories but sometimes, when she is not comfortable with their comments, she puts them on a blast.
See a screenshot of their conversation below: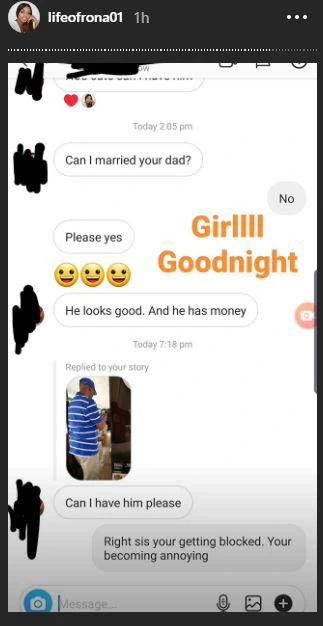 However, some minutes after Sharon called the follower out; the follower, who must have been ashamed of the public embarrassment, apologized to her (Sharon) and told her that she was only joking.
See a screenshot of their conversation below. Sharon was kind enough to blur her face out of the screenshot..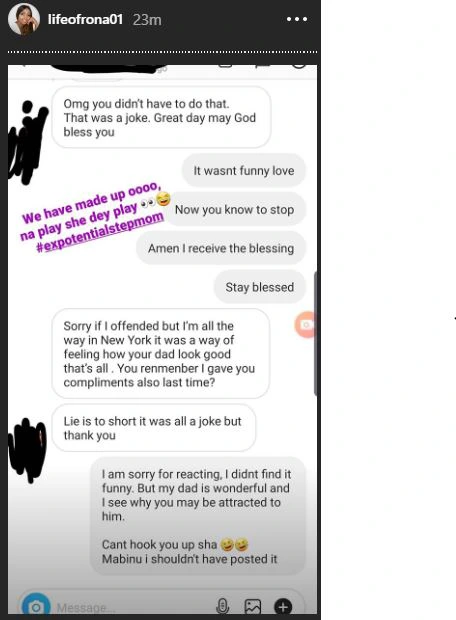 Drop your comments below