Nigerians reacts as Pastor Adeboye tells his son to sack secretary who seduce him
Nigerians are people who hold religion in high esteem and do not take the words of their pastors for granted. However, in recent times, people have become bold and now question the teachings of their religious leaders.
According to him, his son said his secretary excited him and he usually looked forward to going to work on Mondays just to see her. Adeboye advised that he sack her to save his marriage.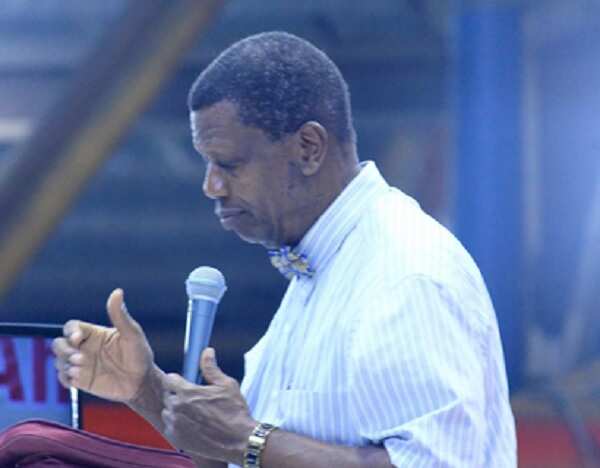 Reactions as Pastor Adeboye tells his son to sack a secretary who excites him
Source: UGC
After the story was shared, Nigerians have taken to social media to react to it with many of them bashing the man of God.
According to some people, the innocent woman lost her job due to his son's lust and she might even be the breadwinner of her family. Others, however, were of the opinion that there are lessons in his message and that the wise should learn.
Read some comments below:
Tife Fabunmi said: "I just read Pastor Adeboye thread and I am not satisfied with the man sacking the woman coz he couldn't control himself, instead he could have helped her secure a job in another place or change her dept and as for the other tweets below, it's facts but that first tweet…..Nahhh!"
Edmund said: "Pastor Adeboye is not my GO.
I'm a Catholic. His thread was the truth. The "sacking" was excessive but knowing him, I'm sure they'd have transferred her somewhere else or gotten her another job. He didn't have to put that in that thread."
Obi of Onitsha wrote: "Pastor Adeboye asked his son to fire his secretary because he couldn't control the ec*stasy of working around her. An innocent woman lost her job for nothing and people are replying, "More grace to Daddy." I don't understand, grace to fire more innocent people??"
Qudus tweeted: "Pastor Adeboye told his son to sack his secretary because of the excitement he gets around her. Mathew 5:29 If your right eye causes you to stumble, gouge it out & throw it away. People criticizing Adeboye are Christians who don't read the bible. Stop adding civilization into religion."
Read more reactions below:
Hmm.. Na was ooo for Naija