Good News: Nigeria Successfully Repays China, Islamic Bank, Arab Bank, IMF and Others N3.63tn Debt
The Nigerian government has successfully repaid a debt of N3.63 trillion owed to world bank among several creditors
The creditors received their payments between Janaury and December of 2022 in both naira and dollars
Although the repayment is good news, the Nigerian government has borrowed another N6.69 trillion
According to data from the Debt Management Office (DMO) obtained by Wothappen.com, Nigeria spent N3.63 trillion servicing its external and domestic debts in 2022.
The payments were made to creditors which include the Chinese government, Islamic Bank, Arab bank, International Monetary Fund among several others.
How Nigeria repaid some of its debt
Check on DMO data shows Nigeria used the exchange rate of N448.08 to pay off external debt of $2.40 billion, which amounted to N1.07 trillion.
While the total domestic debt service for the year stood at N2.56 trillion.
The domestic debt service, which covers payments to bond investors, banks, and others, DMO data revealed that N529.88 billion was the highest monthly debt servicing expenditure paid in April 2022.
Here is the monthly breakdown of how the Federal Government (FG) repaid debt to domestic creditors in 2022.
January – N188.36 billion
February – N103.88 billion
March – N376.44 billion
April – N529.88 billion
May – N66.97 billion
June – N67.88 billion
July – N248.72 billion
August – N152.44 billion
September – N419.42 billion
October – N302.42 billion
November – N57.24 billion
December – N47.11 billion.
Some external debt creditors that received credit alerts from Nigeria in 2022
China – $256,583,866.48
International Monetary Fund: $14,908,327.22
African Development Bank: $114,170,633.49
International Fund For Agricultural Development: $6,364,700.31
African Development Fund: $29,287,792.35
Africa Growing Together Fund: $389,139.37
International Development Association: $446,064,137.09
European Development Fund: $5,243,339.76
Arab Bank for Economic Development in Africa: $632,181.86
Islamic Development Bank: $1,552,989.77
India : $8,166,901.40
France: $46,825,104.25
Germany: $24,978,907.67
Nigeria's Public Debt Rises to N46.25 trillion
Meanwhile in another report, Legit.ng revealed that that Nigeria's total public debt stock rose to N46.25 trillion as of the end of December 2022.
This is a 14.46% increase or N6.69 trillion compared to N39.56 trillion recorded on December 31, 2021.
Lagos State is the most indebted state in Nigeria, with a total debt of N807.20bn, followed by Delta State.
Prominent cleric, Primate Theophilus Olabayo, has warned against post-election violence in Nigeria
Primate Olabayo, specifically, warned those against the transition of power to Bola Tinubu to desist from it
The cleric also advised opposition parties to shun the rhetoric of violence and focus on sustaining peace
The founder and primate of the Evangelical Church of Yahweh Worldwide, Theophilus Olabayo, has warned against post-election violence in Nigeria.
Speaking to select journalists, including a WOTHAPPEN reporter recently, Primate Olabayo alleged that some people plan to create chaos and unrest.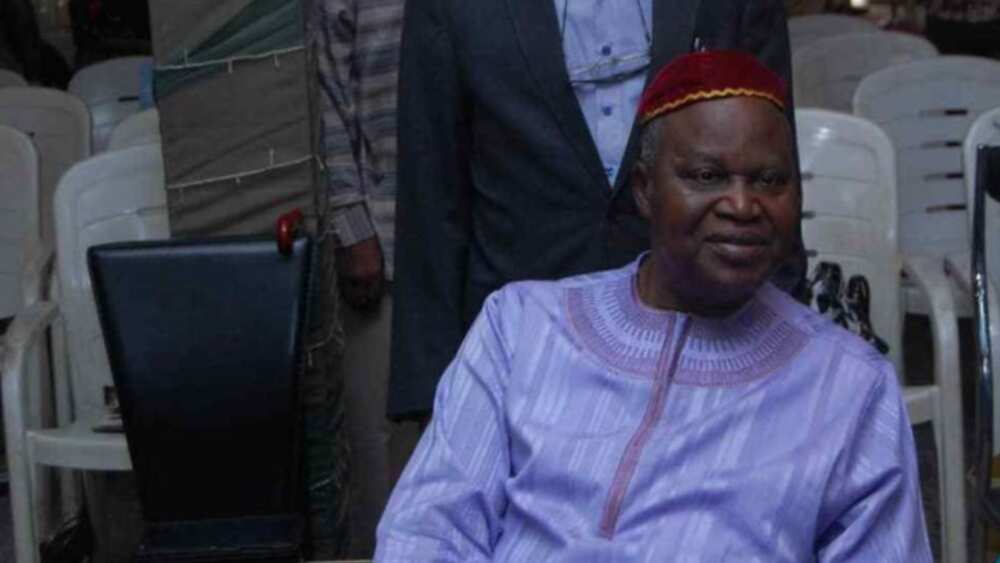 Primate Olabayo said the peace of the nation after the elections is sacrosanct.Photo credit: Evangelical Church of Yahweh
Source: Facebook
He said:
"They do not want a transition of power to Asiwaju, so they are trying to form an interim government. If they succeed, it will take the nation backwards and have grave consequences."
He, however, insisted that despite the plans of a few people, the president-elect, Bola Tinubu, will be sworn in as Nigeria's next leader.
Speaking on opposition parties, especially the Peoples Democratic Party (PDP) and Labour Party (LP), Primate Olabayo stated that:
"Opposition parties, PDP and especially LP, are part of the democratic experience. You win some and loose some, so whatever they do must be in the overall interest of the nation.
"Remember that my predictions about Lagos, Oyo, Ogun, Abia, Enugu, Benue, Rivers and Delta gubernatorial elections came to pass and the losers are not calling for blood.
"There will be no war. Politicians need to be careful about their utterances. Hate speech should not be encouraged. Though, I foresee political assassination amongst the politicians, as some people try to create chaos that will lead to civil unrest."
He also advised President Muhammadu Buhari to ensure power is transmitted to the president-elect on Monday, May 29.
His words:
"President Buhari should be a father to the nation. There was a peaceful transition of power from President Goodluck Jonathan to him. He should also ensure a peaceful transition of power to the president-elect.
"Nigeria is going to be great. I have said this several times in the past. It is for the incoming government to restructure this country to some extent, so that the nation will experience economic growth and social stability in the near future.
"Young, vibrant youths and professionals with vast experience in various fields are needed to birth a new Nigeria."
Easter: President-elect, Tinubu calls for love and oneness amongst Nigerians
Meanwhile, Tinubu has called for love and oneness amongst Nigerians in the spirit of celebrating the death and resurrection of the Lord Jesus Christ.
The president-elect made this known on Saturday, April 8, in his Easter message made available to WOTHAPPEN.
Tinubu urged Nigerians to replicate the "priceless sacrifice and limitless love of God for mankind" during this Easter period.
Easter: Peter Obi felicitates Christians ahead of celebrations
Similarly, the 2023 presidential candidate of the Labour Party, Peter Obi, has sent a thrilling Easter message to Nigerians.
His goodwill message urged citizens to be hopeful and optimistic for a better Nigeria.
He also extended his love to Christians across the federation in celebration of the death and resurrection of Jesus Christ.