The golden child of Nigerian business circles "Aliko Dangote" has been a great source of inspiration to entrepreneurs in Nigeria and across Africa especially those who really want to start small but with big dreams.
In his journey of entrepreneurship, he identified and took advantage of opportunities. He was not discouraged by challenges which have resulted in his great achievement in the business world and also made him the business icon of our time.
The Nigerian billionaire as he is fondly called is one of the greatest Nigerian and African men who started very small and grew rapidly as a result of a complete focus on what he knew how best to do.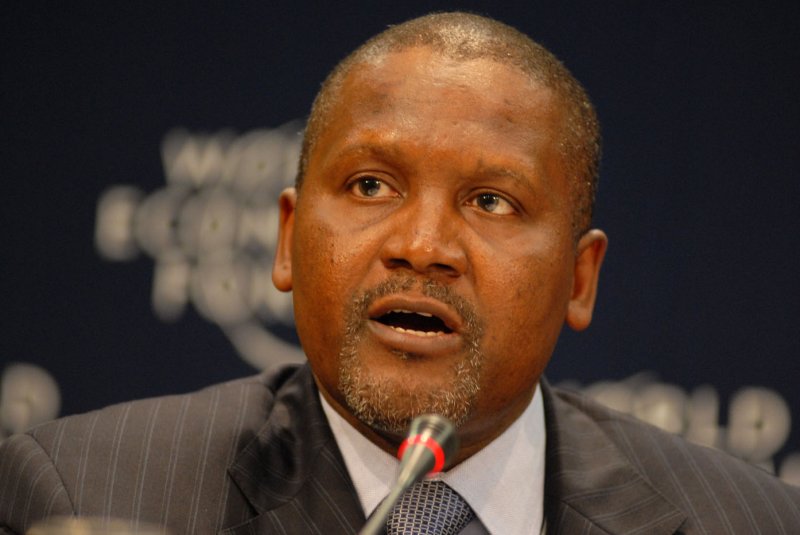 We all know how prominent Aliko Dangote has become in Nigeria and the world at large, but know very little facts about him.
You'll get to know about his wife, children, net worth, house, cars, bio, and other amazing facts.
Aliko Dangote's Bio
He was born on April 10, 1957, in Kano State into a wealthy Muslim family. His mother's name is Mariya Aliko while his maternal grandfather is Sanusi Dantata. He has three siblings – Sani Dangote, Bello Dangote and a younger brother who lost his life in an air crash in Kano with Ibrahim Abacha in 1996.
Raised up by his maternal great-grandfather Alhassan Abdullahi Dantata, Alhaji Aliko studied Business Studies and graduated from Al-Azahar University, Cairo, Egypt. Many of us didn't know Aliko Dangote got his initial capital at 21 years from his uncle, the late Alhaji Sanusi Dantata to start his own business, as was the practice then.
From the time he was young and had an eye on business. He thus started a business in Kano in 1977, trading in commodities and also building supplies. In the same year, he moved to Lagos and decided to trade on cement.
Surprisingly, while in primary school, he would buy cartons of sweets (sugar boxes) and would sell to fellow students to make profits, having learnt the art of business and making money from his own father. This proves his huge interest in business, even at that time.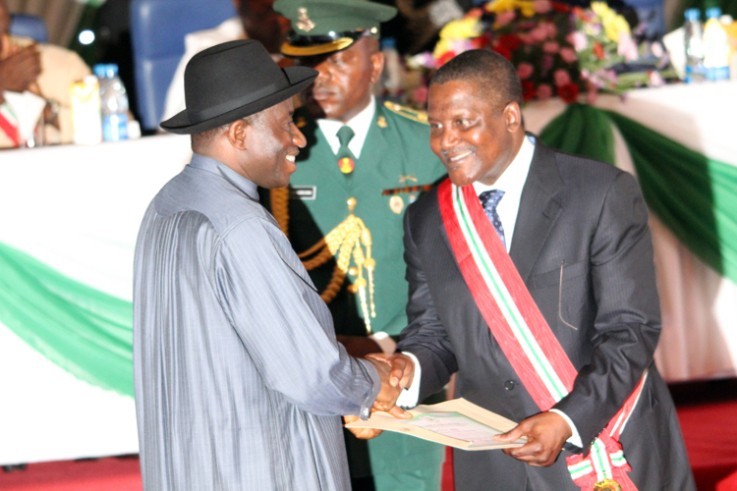 Today, Dangote is one of most patriotic Nigerians living, having invested most of his resources in Nigeria and across the continent with little interest in making investment abroad, thereby playing a very significant role in achieving economic growth of Nigeria.
This obvious effort is seen when he denied the rumour that he had interest in buying 16% stake in Premiership side belonging to Lady Nina Bracewell-Smith on May 23, 2010.
The business mogul has also proved that success is usually through determination, honesty and perseverance; and not necessarily by acquiring Harvard-Oxford certificates or first-class academic qualification, considering the fact that he holds a minimum basic education. His managerial ability, alone, has caused envy among the economic professors across the continent.
His Wife, Children
Like other men, the moneybag has his own share of the romantic sagas, having married and divorced thrice before his current marriage.
His first marriage was to a young woman his family selected for him in May 1977. In 2009, Dangote fell in love with Nafisat Yar'adua, his daughter's friend and the young daughter of the late Nigerian President, Musa Yar' Adua.
Sadly, Nafisat turned down his advances because Halima, Dangote's daughter, was her friend. He later got married to Mariya A. D Muhammad Rufai, a Senator's daughter. After the second divorce, there were rumours about a romance between the richest man in Africa and the Queen of Beauty of 2013 Sylvia Nduka.
At the moment, it's not known if he is married to any woman. He could possibly be single as there is no information about his present marital status.
The African mogul reportedly has 15 children, including three grown-up daughters – Halima Bello (Dangote) 2. Mariya Dangote 3. Fatima Dangote. The gorgeous trio studied and graduated from the best universities in the United Kingdom.
Halima, now married to Sulaiman Sani Bello, studied marketing in London. She works in a family business. Her younger sister, Mariya Dangote graduated from the Coventry University while Fatima Dangote is the head of the Cupcake Factory.
The moneybag also has an adopted son called Abdulrahman Fasasi.
Net Worth
The Nigerian businessman has an impressive net worth of 13.9 billion USD, according to 2018 Forbes ranking.
House, Cars
Like most rich people, Alhaji Aliko Dangote is ver⁴³33y soft about his toys. He owns a fleet of the most luxurious cars existing in the world right now. His cars include; Bentleys Buggatis, Maybach, and Mercedes.
His mansion, situated in the parts of Northern Abuja has been compared with old luxurious palaces in France, Italy or England. The stylish gold-plated property apparently cost millions of dollars and has housed the millionaire for over thirteen years.
The millionaire has a massive yacht full of modern gadgets and amenities. He acquired the yacht, named Mariya (his mother's name) in 2013.
In addition to his cars, the Kano-born moneybag has a super classy Bombardier's Global Express XRS private jet, estimated to around $45 million or more.
Interesting Facts about Aliko Dangote
It took Alhaji Aliko Dangote three decades to amass one billion US dollars.
On November 14, 2011, former president Goodluck Jonathan awarded Dangote Nigeria's second-highest honour, Grand Commander of the Order of the Niger (GCON).
Very few Nigerian knew that Dangote played a very prominent role in the funding of Olusegun Obasanjo's re-election bid in 2003, to which he gave over 200 million naira.
He also donated 50 million naira to the National Mosque under the aegis of "Friends of Obasanjo and Atiku" and also contributed 200 million to the Presidential Library. These highly controversial gifts to members of the ruling Party (PDP) gave rise to significant concerns despite highly publicised anti-corruption campaigns during Obasanjo's second term.
The Kano-born businessman pays over 12,000 staff nationwide, but on completion of ongoing projects, it is expected to hit 22,000 staff making earnings from Dangote group.
Alhaji Aliko Dangote, unlike some other people, employs anybody that has a good prospect for enhancing the more rapid growth of Dangote group and Nigerian economic at large. He pays little or no attention to tribe and religion of his employees. For instance, his Personal Assistant is Yoruba while his Head of Corporate Affairs is a Christian from Delta State. Of course, his business success may also be linked to his broad-mindedness.
The business mogul donated 150 million naira to stop the spread of Ebola in 2014, according to a recent Nigerian government announcement.
His interest lies within a lot of spheres of business. It includes; flour, oil and gas, petrochemical industries; cement industries, sugar, and salt.
He bought his first car in 1978. The car, Mercedes 200, he admitted was bought for N5,100 and had no power steering.